Next generation footbridges in FRP composites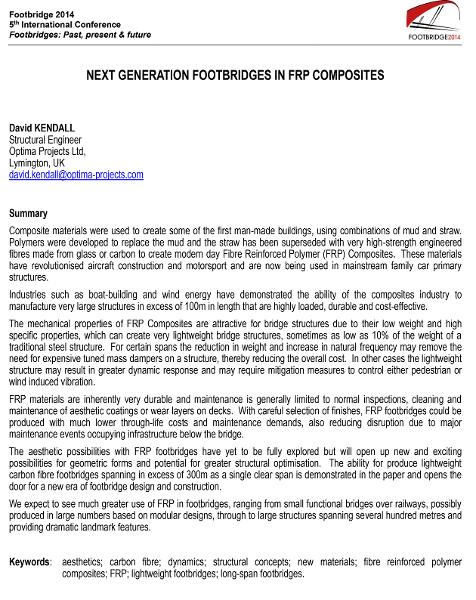 Auteur(s):

David Kendall



Médium:
papier de conférence
Langue(s):
Conférence:
Footbridge 2014 - Past, Present & Future, London, 16-18 July 2014
Publié dans:
Footbridge 2014 - Past, Present & Future
Page(s):
75-85
Année:
2014
Abstrait:

Composite materials were used to create some of the first man made buildings, using combinations of mud and straw. Polymers were developed to replace the mud and the straw has been superseded with very high strength engineered fibres made from glass or carbon to create modern day Fibre Reinforced Polymer (FRP) Composites. These materials have revolutionised aircraft construction and motorsport and are now being used in mainstream family car primary structures.

Industries such as boat building and wind energy have demonstrated the ability of the composites industry to manufacture very large structures in excess of 100m in length that are highly loaded, durable and cost effective.

The mechanical properties of FRP Composites are attractive for bridge structures due to their low weight and high specific properties, which can create very lightweight bridge structures, sometimes as low as 10% of the weight of a traditional steel structure. For certain spans the reduction in weight and increase in natural frequency may remove the need for ex pensive tuned mass dampers on a structure, thereby reducing the overall cost. In other cases the lightweight structure may result in greater dynamic response and may require mitigation measures to control either pedestrian or wind induced vibration.

FRP materials are inherently very durable and maintenance is generally limited to normal inspections, cleaning and maintenance of aesthetic coating s or wear layers on decks. With careful selection of finishes, FRP footbridges could be produced with much lower through life costs and maintenance demands, also reducing disruption due to major maintenance events occupying infrastructure below the bridge.

The aesthetic possibilities with FRP footbridges have yet to be fully explored but will open up new and exciting possibilities for geometric forms and potential for greater structural optimisation. The ability for produce lightweight carbon fibre footbridges spanning in excess of 300m as a single clear span is demonstrated in the paper and opens the door for a new era of footbridge design and construction.

We expect to see much greater use of FRP in footbridges, ranging from small functional bridges over railways, possibly produced in large numbers based on modular designs, through to large structures spanning several hundred metres and providing dramatic landmark features.

Mots-clé:

esthétique

nouveaux matériaux

License:

Cette oeuvre est soumis au droits d'auteurs. Le(s) détenteur(s) des droits permet(tent) l'utilisation la visualistion et le téléchargement de cette oeuvre. La retransmission ou la publication nécessite la permission des détenteurs des droits.
Ouvrages et projets
Types d'ouvrages