St. Philips Footbridge in Bristol
A Design Emerging from the Context and its Constraints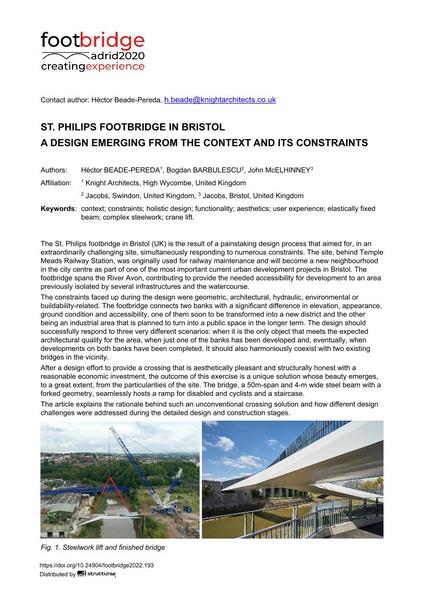 Author(s):

Héctor Beade-Pereda

(Head of Design, Knight Architects, High Wycombe, UK)


Bogdan Barbulescu

(Principal Bridge Engineer, Jacobs, Swindon, UK)


John McElhinney

(Associate Bridge Engineer, Jacobs, Bristol, UK)

Medium:
conference paper
Language(s):
English
Conference:
Footbridge 2022: Creating Experience, Madrid, Spain, 07-09 September 2022
Published in:
Footbridge Madrid 2022 - Creating Experience
DOI:
10.24904/footbridge2022.193
Abstract:

In 1840, the inauguration of the Great Western Railway in South England connecting London and Bristol, changed part of the outskirts of Bristol to a major railway hub and home of many rail-related activities. An area behind the station in between the railway, the River Avon and the Bath road, known as Temple Island, became restricted to rail use (workshops, depots or sheds) for more than 150 years, making it inaccessible and unattractive as the railway use decreased. The transformation of this area into a new centrally located neighbourhood is one of the most important urban development projects currently planned in Bristol. The new St Philips footbridge spans the River Avon, contributing to accessibility to the site and increasing the sustainable transport network of the city. The bridge, a 50m-span and 4-m wide steel beam with a forked geometry, seamlessly hosts a ramp for disabled and cyclists and a staircase to maximise functionality. The design approach to generate its shape was at the same time structural, aesthetical, and functional, innovatively solving a complex crossing problem.

Keywords:

aesthetics

context

user experience

holistic design

elastically fixed beam

functionality

constraints

complex steelwork

crane lift

License:

This creative work is copyrighted. The copyright holder(s) do(es) not grant any usage rights other than viewing and downloading the work for personal use. Further copying or publication requires the permission of the copyright holder(s).