Planning, Design and Construction of Sustainable Footbridges: An African Perspective
HA Mofutho Footbridge at Quasha's Nek, Lesotho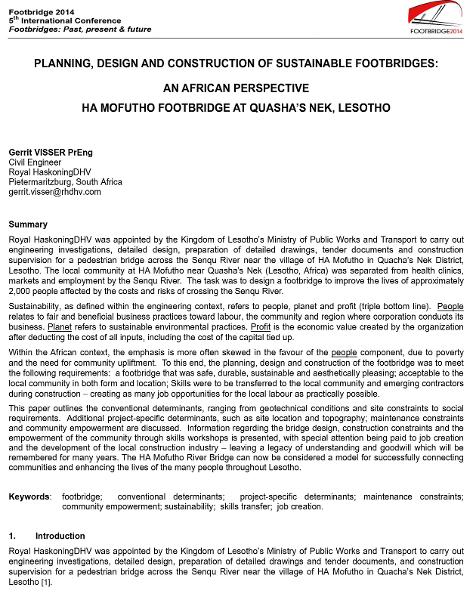 Autor(en):

Gerrit Visser



Medium:
Tagungsbeitrag
Sprache(n):
Englisch
Tagung:
Footbridge 2014 - Past, Present & Future, London, 16-18 July 2014
Veröffentlicht in:
Footbridge 2014 - Past, Present & Future
Jahr:
2014
Abstrakt:

Royal HaskoningDHV was appointed by the Kingdom of Lesotho's Ministry of Public Works and Transport to carry out engineering investigations, detailed design, preparation of detailed drawings, tender documents and construction supervision for a pedestrian bridge across the Senqu River near the village of HA Mofutho in Quacha's Nek District, Lesotho. The local community at HA Mofutho near Quasha's Nek (Lesotho, Africa) was separated from health clinics, markets and employment by the Senqu River. The task was to design a footbridge to improve the lives of approximately 2,000 people affected by the costs and risks of crossing the Senqu River.

Sustainability, as defined within the engineering context, refers to people, planet and profit (triple bottom line). People relates to fair and beneficial business practices toward labour, the community and region where corporation conducts its business. Planet refers to sustainable environmental practices. Profit is the economic value created by the organization after deducting the cost of all inputs, including the cost of the capital tied up.

Within the African context, the emphasis is more often skewed in the favour of the people component, due to poverty and the need for community upliftment. To this end, the planning, design and construction of the footbridge was to meet the following requirements: a footbridge that was safe, durable, sustainable and aesthetically pleasing; acceptable to the local community in both form and location; Skills were to be transferred to the local community and emerging contractors during construction – creating as many job opportunities for the local labour as practically possible.

This paper outlines the conventional determinants, ranging from geotechnical conditions and site constraints to social requirements. Additional project-specific determinants, such as site location and topography; maintenance constraints and community empowerment are discussed. Information regarding the bridge design, construction constraints and the empowerment of the community through skills workshops is presented, with special attention being paid to job creation and the development of the local construction industry – leaving a legacy of understanding and goodwill which will be remembered for many years. The HA Mofutho River Bridge can now be considered a model for successfully connecting communities and enhancing the lives of the many people throughout Lesotho.

Stichwörter:

Nachhaltigkeit

Fußgängersteg

Fußgängerbrücke

Lizenz:

Dieses Werk ist urheberrechtlich geschützt. Der/die Urheber erteilt durch die Veröffentlichung nur das Recht, dieses Werk zu betrachten/lesen und herunterzuladen. Eine weitere Vervielfältigung und Veröffentlichung bedarf der Genehmigung des Urhebers/der Urheber.
Geografische Orte